The Education Commission assists the Pastor and pastoral staff in developing, promoting, coordinating and evaluating all parish activities relating to Christian education within the parish, and to evangelization both within and beyond the parish.
The Commission meets each month.  Members of the commission include Ming Cabrera, Kim Komar (Chair), Dave Rigg, and Phil Zeeck; staff members include Fr. Greg Staudinger, Jennifer Mack, Amanda Michael, and Jessie Rohrer.
Mission Statement
The Education Commission is responsible for the religious education and formation of all parishioners. It is the liaison between the parish Pastoral Council and those persons or bodies within the parish structure responsible for the various aspects of total parish religious education. Adult faith formation should be the primary focus. "An adult community whose faith is well formed and lively will more effectively pass the faith on to the next generation. In addition, adult faith formation should serve as the point of reference for catechesis for other age groups. It ought to be the organizing principle, which gives coherence to other various catechetical programs offered by the parish.
Nursery Attendants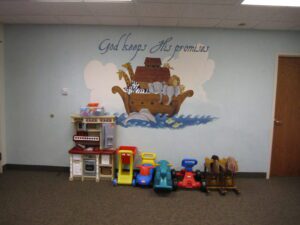 DUE TO COVID-19 PRECAUTIONS WE ARE SADLY UNABLE TO PROVIDE MOST OF OUR MINISTRIES.  WE JOIN TOGETHER IN PRAYER THAT A SAFE VACCINE IS PRODUCED AND THAT WE MAY ONCE AGAIN BE MORE TANGIBLY THE HANDS AND FEET OF CHRIST.
Currently, the nursery is closed until further notice.