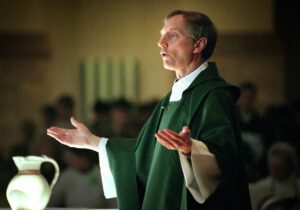 Fr. Steve Tokarski, son, brother, uncle, friend and pastor died on Tuesday, October 4, 2011. His presence among us physically is no more but his spiritual presence is felt daily. We celebrate his living with our heavenly Creator among the Communion of Saints. This page is dedicated to his memory. (Special thank you to the Billings Gazette for permission to use this photo by James Woodcock.)
Memorials may be made to St. Pius X Calvary Cemetery Endowment or to the Fr. Steve Tokarski Memorial Scholarship: St. Pius X Parish 717 18th St. West Billings, MT 59102 Funds that go to Calvary Cemetery are used for the perpetual care of the cemetery. Funds that go to Fr. Steve Tokarski Memorial Scholarship are in an endowment created in Fr. Steve's name and monies are used to support St. Pius children who want to attend St. Francis Primary, Intermediate or Upper School.
Fr. Steve Way of the Cross Memorial Garden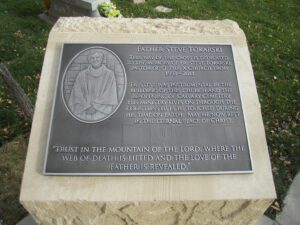 Thanks to the generosity of so many we have a beautiful place to meditate and pray on our parish campus. The stations of the cross are from our original church (now the St. Francis Intermediate gym). We hope you will find peace in this place.
By clicking on this link you will be able to read memories posted on a blog created the week our Fr. Steve died.
Following is a video tribute produced with our never ending thanks to KTVQ-TV, Jon Stepanek, and producer Jerry Makoff. Thank you too to Jeremy Vannatta and Andrea Jackson for your loving efforts in this project.