"Pastoral Council Information Packet"
St. Pius X is shepherded by Fr. Greg Staudinger, Pastor.  Fr. Greg seeks consultation by two primary Councils: "The Pastoral Council", (read below) and "The Finance Council." The Pastoral Council has four commissions:
Click here for a list of Councils & Commissions: Chairs and Meeting Times.
Pastoral Council
Click here for information packet if you are interested in submitting your name
The Pastoral Council is comprised of twelve members and their primary responsibility is to guide and determine the direction of our parish by providing leadership, leading pastoral planning, and initiating and directing policies which flow out of the parish's unique mission.  They serve for rotating three-year terms and each year at Pentecost four new member's names are drawn for new terms.
They meet the second Wednesday of each month at 7:00pm in the Parish Center.  Officers and members for the 2021-2022 year follow: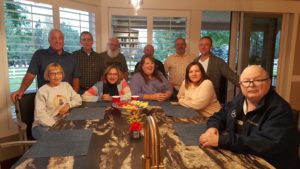 Pictured, 2021-2022 Council: front row seated L to R: Diane Bertrand, Janice Krueger, Nicole Geiger, Kim Komar and Fr. Greg Staudinger; back row standing L to R Craig Rider, David Mork, Bob Holbrook (KC Rep), Tyler Blood, Tim Morgan and Mike Paquette.
Not pictured:  Krista Bakkedahl, Rose Duchesneau, Ron Yates, Phil Zeeck Bonnie Wutzke and Leslie Ruybal (Young Adult Rep).
Officers
Chair: (Awaiting Election of Officer Summer 2021)
Vice Chair: (Awaiting Election of Officer Summer 2021)
Secretary: (Awaiting Election of Officer Summer 2021)
Members
Krista Bakkedahl (YA)
Diane Bertrand (PLC )
Tyler Blood (PLC)
Rose Duchesneau
Nicole Geiger (PLC)
Kim Komar (ED)
Janice Krueger (WC)
Tim Morgan (WC)
Dave Mork (WC)
Mike Paquette (CS)
Ron Yates (PLC)
Phil Zeeck (ED)
Fr. Greg Staudinger, Pastor
Billings Catholic Schools: –
Council of Catholic Women Representative: Bonnie Wutzke
Knights of Columbus Representative: Bob Holbrook
Young Adult Representative: Leslie Ruybal
Each member of the Pastoral Council also serves as a member of one of the St. Pius Church Commissions. The small letter behind each name indicates which commission the Pastoral Council member serves.
Key:
BCS = Billings Catholic Schools
E = Education Commission
W = Worship Planning
CS = Christian Service
PL = Parish Life
FC = Finance Council
Y = Youth Ministry
YA= Young Adults
CCW= Council of Catholic Women