Parish Life Commission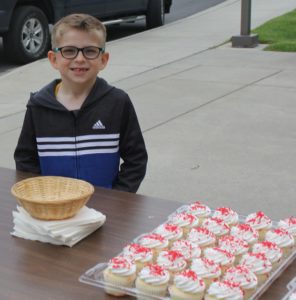 Members of the Parish Life Commission are Diane Bertrand, Jeanne Moller, Jon Stepanek, Leslie Modrow, Nancy Rigg, Nicole Geiger (chair), Ron Yates, and Tyler Blood.  Kathy McCleary is the staff liaison. They meet on the first Thursday of the month at 8:00am in the Parish Center. (Diane, Nicole, Ron & Tyler are Pastoral Council Representatives.)

The Parish Life Commission which was created in 1998 by Fr. Steve Tokarski and its purpose is to "foster a spirit of community and enhances parish communications." The individual events, activities and organizations that fall under the Parish Life umbrella (there are 14 – see below) are each coordinated by chairs or committees.  The commission itself focuses on the big picture of parish life activities:
Reviews annual calendar of events and seeks to avoid scheduling conflicts;
Examines the current events and activities to see if they meet the needs of the parish?  If yes, do any need enhancement? If not, what are possible solutions?
Inquires if the project/event-specific committees have the tools they need and if not offers or looks for solutions;
Provide an overall PR/Marketing vision of all that falls under Parish Life umbrella.
Parish Life
If you'd like to learn more or to become involved with any of the following ministries or organizations either contact the person(s) listed by each or where there isn't a specific contact please call our parish offices 656-2522 and ask for Kathy.
Baccalaureate for Parish HS grads
Each spring the parish has a Baccalaureate Mass and a reception following is hosted by CCW.
Coffee & Rolls
Weekend Hospitality, post-covid is being revamped.  Please stay tuned for future details.
Council of Catholic Women (CCW)
The opportunity for women to grow in the faith of the Church, to share their talents, and to strengthen their friendships can be found in the St. Pius X Council of Catholic Women.  General meetings are held on the third Mondays of September, November, January, March, and May.  Please check our CCW Update in the bulletin for specific times and program information.  We welcome every woman parishioner 18 years and older to join us as we share the light of Christ through our words and deeds.
Contact:  Kathleen Bernhardt
Council of Catholic Women Circles: Meets Monthly (Sept. – May)
Contact: Kathleen Bernhardt 855-4263
St Michael's Circle: meets the 4th Friday of the month (Sept. – April) at noon at St. Pius X Parish Center
This circle serves for funeral vigils and assists with other CCW and church related activities.
Contact: Mary Ellen James 252-0004
St Anthony's Circle: Meets the 1st Tuesday of the month at 7:00 p.m.
Members assist as needed with CCW activities and sell religious articles twice a year after Masses.
Contact:  Barbara McGregor 656-3679 or Bonnie Wutzke 656-0847
Giving Thanks Dinner
Each fall a dinner is offered by the parish in honor or our elder members.  This event involves the volunteer efforts of individuals and families and all are welcome to help by donating food items or time!
The Knights of Columbus is the largest international fraternal organization of Catholic men, over 18 years of age, dedicated to the Rosary and Mary, the Blessed Mother of Jesus. The St. Pius X Council 9976, Knights of Columbus are Brother Knights and their families that help each other, their church, community, youth and families to be better citizens.
Officer's Meeting: 7:00pm – 2nd. Thursday of the month
General dinner meeting: 6:30pm – 3rd. Thursday of the month In Fellowship Hall.
To learn more about us click here.
Parish Newsletter ~ WellSpring
Tells the stories of our parish community and is mailed to all homes of registered parishioners mid-fall for the Advent/Christmas schedule, financial report and overall parish report.
Who are the young adults of our parish? We are in our 20s and 30s with or without children.  We are comprised of singles, couples, married couples, and couples with children who are looking to get more out of our church experience.  The motto for our young adult group is Live, Learn, and Lead. See our page for more details!
Welcoming Committee
The Welcoming Committee reaches out to new parish members and helps welcome them into the parish family. Each month we have a group of Welcoming Committee members at a table in our gathering space to welcome new members. They provide informational materials along with a welcoming gift to those who visit the table.  All are welcome!  Contact: Kathy McCleary 281-8505.