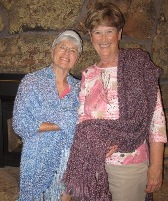 Homebound Ministers! Due to COVID-19 Precautions we are sadly unable to provide most of our ministries.  We join together in prayer that a safe vaccine is produced and that we may once again be more tangibly the hands and feet of Christ.
The ministries we are still able to provide:
Funeral follow-up families following the death of a loved one.
Prayer Shawl Ministry
Prayer and consultation on medical needs through the parish nurses.
The following ministries are suspended for the immediate future:
Hospital visitation of the sick and injured of the parish.
Home visits with Eucharist to the sick and shut-in parishioners.
Visits to nursing homes and care facilities to bring Eucharist.
Provide temporary light housekeeping and meals for those unable to care for themselves and family members due to illness or injury.
Provide rides to church, doctor appointments, etc., for those unable to drive.
Provide educational programs and resource referrals to parishioners.
This ministry is an extension of the Christian Service Commission.
Contact Person: Kathy McCleary 281-8505
---