Board
The Calvary Cemetery Board meets the second Wednesday of each Quarter: January, April, July and October.  They oversee the general administration and maintenance of the cemetery.  In addition they promote the Cemetery Endowment for the perpetual care of the grounds.
The members of the board are Don James (Chair), John Dahl, Vince Ruegamer, Ryan Huppert, Jeanne Moller, Karyn Haider, and Fr. Greg Staudinger.
If you'd like more information contact either Karyn Haider or Mike Persha at the parish offices 656-2522.
Calvary Cemetery History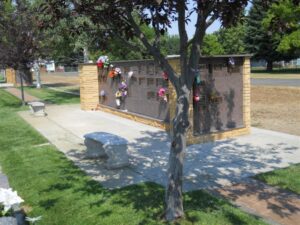 Calvary Cemetery was opened for burials in 1906. It served the Catholic community in Billings and the surrounding area for the next fifty years. When the Diocese decided to build the original St Pius X Church on some of the unused cemetery property, Calvary Cemetery was closed and Holy Cross Cemetery replaced it as the Catholic cemetery for the area.
In 1995 when St. Pius X initiated plans for the new church, the Diocese of Great Falls-Billings granted the parish permission to re-open Calvary Cemetery as part of the St. Pius X campus. After an extended effort by a dedicated group of volunteers and very generous donations by St Pius X parishioners, the cemetery re-opened in 1999. The cemetery went from being a rather neglected piece of property to a beautiful resting-place for the deceased.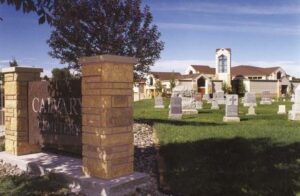 Calvary Cemetery is intended primarily for St. Pius X parishioners and their families. It is truly a beautiful celebration of one's life to have the service here at St. Pius X and proceed through the ceremonial doors behind the altar directly to the interment site just a few steps away.
While purchase of burial sites is an infrequent consideration for most people, we invite you to give the matter some thought. Availability of sites, especially burial plots, is somewhat limited in Calvary Cemetery. The Cemetery Board, in an effort to make the burial site purchase easier for all parishioners, has extended the payment terms to three years, interest free. If you are interested in purchasing a site or just discussing the options, please call the parish offices for an appointment. Your family will be grateful that this arrangement was taken care of prior to the actual need.
May 2, 2014 new columbarium were installed and are now available for sale.  Following are photos of the new installation.